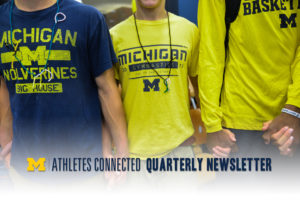 In July 2017, Athletes Connected produced and distributed its first newsletter. This straight-to-your-mailbox message brings the latest news, trends, videos and productivity about student-athlete mental health at the University of Michigan and across the nation.
The newsletter will be released once a season with the next installment set for January 2018.
July 2017: Issue No. 1
Topics Covered: The re-launching of the Athletes Connected website; featured video of live after athletics; science and research on mood and mental health as it relates to academic performance; Jaimie Phelan's dash to NCAA gold; news spotlights on the program; and support for the cause from around the country.
---
October 2017: Issue No. 2
Topics Covered: Athletes Connected celebrates the return of wellness groups on campus for U-M student-athletes; Messages of Hope on Athletic Campus; A former U-M rower shares her story; Research Update; News from around the country; and upcoming events.
---
January 2018: Issue No. 3
Topics Covered: Athletes Connected's third newsletter features the new injury and mental health video series, Q&A series with athletic staff about mental health ,as well as spotlights on other initiatives from around the country.
---
Next Issue: April 2018
---