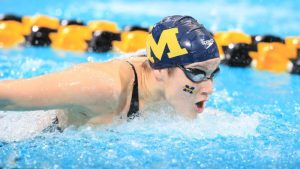 Original Story from ESPN.com
By Ashley Scoby | Special to ESPN.com
Kally Fayhee was 6 when the water became her safe place.
After her family moved to its suburban Chicago home, Fayhee's parents could hardly keep her out of the pool at the neighborhood YMCA. It was, after all, a great place for the new kid in town to meet new friends. As she grew older, Fayhee found the water had the opposite effect, the outside world melting away when she slid into the pool. She pushed herself physically, but it was the kind of exhaustion that exhilarated her.
It wasn't long before Fayhee discovered that the water, beyond being a haven, could morph into a stage. Folks applauded her performances. Once she moved onto high school and club programs, big-name colleges came calling.
Then, as with other things that consume a life the way swimming consumed Fayhee's, the sport started to sour. In 2008, when she was still in high school, Fayhee came one-tenth of one second away from the Olympic trials — a dream washed away in less time than it took to blink.
Vowing to try harder, Fayhee moved to Ann Arbor, Michigan, to start her college swimming career at the University of Michigan. But the pressure she put on herself, the anxiety of always trying to be better than a broken dream, mounted. With that ".1" monopolizing her mind, and with the next chance at Olympic trials around the corner in 2012, Fayhee struggled with race anxiety. She needed an edge, she thought.
So she turned to food restriction.
"I needed to lose weight to be faster in the water," she said, explaining the reasoning that seemed logical to her at the time. "I started paying attention to what I was putting in my body, which isn't a bad thing until you become obsessive."
But the obsession began. Fayhee started purging — a word that still makes her skittish to this day. If she ate something she deemed unworthy, she would "take care of it." She couldn't sleep without the constant worry, couldn't eat without the constant guilt.
"It just kind of snowballed," she said. "I was using it to control anxiety, when at the end of the day, it was controlling me."
---