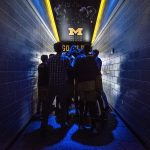 Thank you for visiting our webpage and learning about Athletes Connected. Whether you're seeking assistance, providing feedback or have further questions about our program, your message is important to us. It will be sent to a team of support staff and mental health professionals, and it will be confidential.
ALL MEDIA REQUESTS: media.athletes.connected@umich.edu
GENERAL REQUEST FORM
(Please do not send any sensitive personal information through this form)
[recaptcha_form]
---
If you or someone you know is facing immediate harm because of suicidal or homicidal thoughts or actions, call 911.
If you or someone you know is experiencing a psychiatric emergency or having thoughts of suicide, you can:
Call: 734-936-5900 to reach University of Michigan Psychiatric Emergency Services
Call: 1-800-273-TALK (8255) to reach the National Suicide Prevention Hotline
Text "START" to 741-741 to reach the Crisis Text Line
Call: the main U-M CAPS phone number, 734-764-8312 for after hours mental health consultations (for members of the U-M Campus Community)