The original story from MGoBlue is Part 2 | Read Part 1
---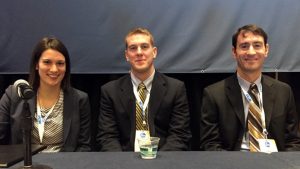 By Steve Kornacki
NATIONAL HARBOR, Md. — Thursday afternoon (Jan. 15), in front of a packed ballroom at the NCAA Convention, it was time to share the results of the reach-out for mental health awareness and solutions at the University of Michigan.
The Athletes Connected program, funded in part by an NCAA Innovations in Research and Practice Grant, was detailed in a 10-minute presentation by former Wolverines student-athletes Will Heininger and Kally Fayhee as well as Daniel Eisenberg, associate professor of Health Management & Policy in the School of Public Health.
After videos telling the stories of Heininger and Fayhee were shown on two big screens and the trio discussed the core of the program — drop-in support groups monitored by a clinician, team presentations, video testimonials and counseling options — there was a loud round of applause from those gathered at the Gaylord National Resort & Convention Center near Washington, D.C.
"People have come up to me from Division I, Division II and Division III schools," said Fayhee, a former U-M swimmer, "and they're not only interested in what we have to say but in implementing the program. Getting that from a range of divisions was spectacular."
Heininger, a football defensive lineman from 2007-11, told the audience that he hoped it could become "a sustainable model" for other universities and colleges.
"It's one that will empower student-athletes to take control," said Heininger, who now works with student-athletes on campus in regard to mental wellness. "When I was struggling (with anxiety and depression), just learning that this was common, after sort of being forced to open up, allowed me to get better.
"I wasn't alone, and this happens to a lot of people. And (I discovered) a large portion of student-athletes take anti-depressant medications.That's why reducing the stigma is so important."