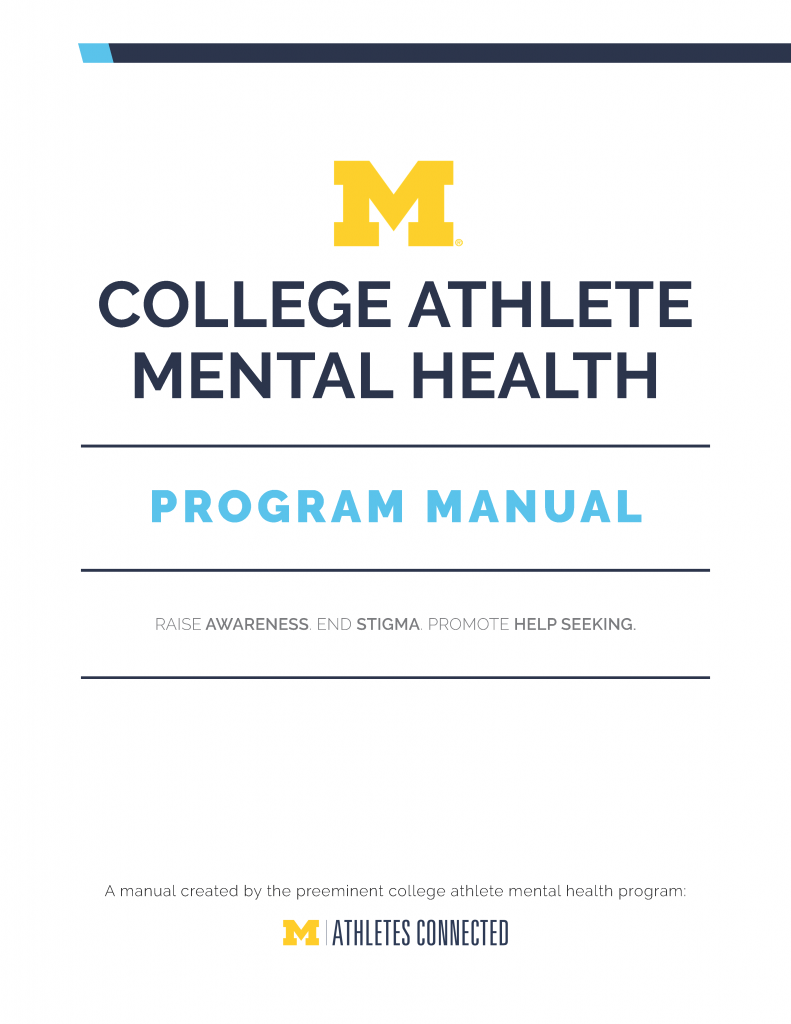 By Jeremy Fallis, U-M Depression Center Marketing Communications Specialist
To address the growing concern for college athlete mental health, requests by other institutions, and to promote general well-being, the University of Michigan's Athletes Connected program has created a first-of-its-kind manual to aid in this quest. The College Athlete Mental Health Program Manual, unveiled Tuesday, Dec. 8, is a roadmap to create programming and assist college athletes.
The manual is available as a PDF download or in a web-friendly dynamic view.
The concept for a manual stemmed from a bevy of inquiries about the creation of Athletes Connected, its functions and successes. The program, collaborative in structure, teamed up to disseminate how to make it work at your college or university.
The 15-page document was written and edited by members of the U-M Depression Center and Athletic Department. In it, background on the program's formation, roles, action items and much more are explained in great detail.
A set of best practices, lessons learned and key questions are answered to guide the next athlete mental health programs. The manual is free to use by others. Even the survey measures can be utilized by outside institutions provided they attribute the University of Michigan's Athletes Connected program as original creator.
Have questions? Members of the Athletes Connected program can be contacted by email.
About Athletes Connected
Formed in 2014 on an NCAA pilot grant, Athletes Connected is a collaborative program by the University of Michigan's Athletic Department, Depression Center and School of Social Work that actively works to provide student-athletes with the tools and resources possible to support student-athletes along the continuum of well-being. Athletes Connected does this by promoting awareness of mental health issues, reducing the stigma of help-seeking and promoting positive coping skills among student-athletes. To learn more about the program, view the entire catalog of videos, read original stories and access helpful resources for student-athletes and non-athletes alike.
Athletes Connected Newsletter
Our program produces a quarterly newsletter, the next one will be delivered this week! Be sure to subscribe to future emails.