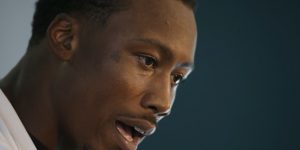 Read the original story written by Brandon Marshall in the Huffington Post
Five-Time Pro Bowl wide receiver and current New York Jet standout Brandon Marshall has been very open about his struggles with mental illness, and the helpful diagnosis of and treatment for Borderline Personality Disorder that allowed him to re-gain control of his life, his health, and gave him a new outlook on life.
While Marshall is an elite NFL athlete, he says that football is his platform, mental health is his purpose.  His foundation, Project 375, aims to "to raise awareness, erase the stigma, and help people to get diagnosed and treated."
Recently, Marshall opened up about the way we discuss mental health and mental illness, and how often inaccurate media coverage — and subsequent discussion in society — increases the stigma, and makes people less likely to seek help for treatable disorders.
Check out some of his mindful, pointed commentary.