Below is an excerpt of CNN's story about Michael Phelps as he opens up on his battle with depression and suicidal thoughts.
---
By Susan Scutti, CNN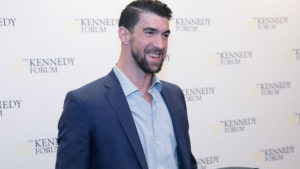 Far from the familiar waters of an Olympic pool, swimmer Michael Phelps shared the story of his personal encounter with depression at a mental health conference in Chicago this week.
"You do contemplate suicide," the winner of 28 Olympic medals told a hushed audience at the fourth annual conference of 
the Kennedy Forum
, a behavioral health advocacy group.
Interviewed at the conference by political strategist 
David Axelrod
 (who is a senior political commentator for CNN), Phelps' 20-minute discussion highlighted his battle against anxiety, depression. and suicidal thoughts — and some questions about his athletic prowess.
***
The 'easy' part
Asked what it takes to become a champion, Phelps, 32, immediately replied, "I think that part is pretty easy — it's hard work, dedication, not giving up."
Pressed for more details, the Baltimore native described the moment his coach told his parents he could become an Olympian and he recalled the taste of defeat when losing a race by "less than half a second" at his first Olympics in Sydney in 2000, which meant returning home without a medal.
"I wanted to come home with hardware," said Phelps, acknowledging this feeling helped him break his first world record at age 15 and later win his first gold medal at the Athens Olympic Games in 2004.
"I was always hungry, hungry, and I wanted more," said Phelps. "I wanted to push myself really to see what my max was."
Intensity has a price.
"Really, after every Olympics I think I fell into a major state of depression," said Phelps when asked to pinpoint when his trouble began. He noticed a pattern of emotion "that just wasn't right" at "a certain time during every year," around the beginning of October or November, he said. "I would say '04 was probably the first depression spell I went through."
That was the same year that Phelps was charged with driving under the influence, Axelrod reminded the spellbound audience.
---
Read the rest of the Michael Phelps' story on CNN.