Read the entire story on The Players' Tribune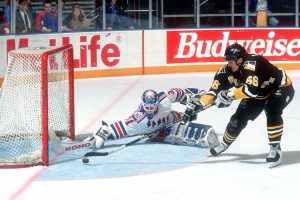 By Corey Hirsch, retired NHL player
It's the summer of 1994, I am standing at the edge of a cliff in Kamloops, British Columbia, and I am checking out.
In February, as a 21-year-old starting goalie, I'd backstopped Canada to an Olympic silver medal. In June, as the third goalie for the New York Rangers, I'd drunk out of the Stanley Cup. I have a girlfriend at home. I have a turbo sports car parked behind me. I have the horizon in front of me — so much horizon — and as I look out past the end of it, I am completely calm.
I'm going to see how fast this sports car can go … and drive it right off this cliff.
And then, finally, I'll be at peace. My thoughts will be gone.
I get in my car and back up a mile and a half so I can get some speed. I've been down these roads hundreds of times, while playing junior hockey for the Kamloops Blazers. All I ever wanted to be, ever since I was a little kid, was a goalie. Ever since I saw Gerry Cheevers in that iconic fiberglass mask — you know the one, with the black stitches painted all over it — I just knew. That's it. I want to be the guy behind that mask. I want to play in the NHL.
Now I'm 22 years old, and I've made it to the NHL. I have my whole life ahead of me.
A mental health issue is not a sign of weakness.
And none of it matters.
I crank up the music. I slam my foot down on the gas and try not to think. I am done. I can't do it anymore.
I'm in first gear, second gear, third gear….
I'm up to 100 mph.
The g-force sucks me back into the seat.
I'm up to 140.
I'm coming up to the cliff. I'm sorry to everybody — I really am. I'm so sorry. But I just can't do it anymore.
I'm coming up to the edge of the cliff.
This is the end.
Read the rest of Corey's story.