ESPNW dives into the story of former Penn State football kicker Joey Julius and his struggle with depression, disordered eating and suicide ideation, as well as how Julius has sought help to get better. Below is an excerpt.
---
By Emily Caron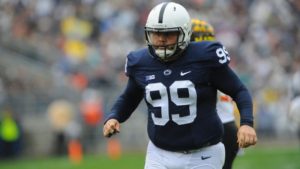 On Monday, March 27, 2017, the day after his 22nd birthday, Penn State kicker Joey Julius walked into the Louis and Mildred Lasch Football Building, just minutes from the famed Beaver Stadium, where he had gained national notoriety for his bone-crunching hit on a Kent State kick returner in 2016. He had an 8:00 a.m. monitored workout scheduled in the training room.
Medically monitored workouts weren't abnormal for Julius, who had openly struggled with binge eating since October 2016. In May of that year, a then-21-year-old Julius said a temporary goodbye to his home in State College, Pennsylvania, to seek solace in St. Louis — home of McCallum Place, an eating-disorder treatment center with male- and athlete-specific programs. He stayed for two months.
"If you let me go home, I'm going to kill myself."
At the facility, Julius was told he had an eating disorder, a diagnosis he had never before received. The 5-foot-10, 258-pound kicker had dealt with erratic eating for most of his life, but after gaining 50 pounds within months of graduating high school — where he was a four-time football letterman and soccer star — in the spring of 2014, his erratic eating rapidly escalated and became an increasingly consuming disease. He left McCallum in 2016 finally understanding what was going on with his health.
But after his workout that March morning — an abnormal weather day, he remembers, warm for a town known for its snowy winters and bone-chilling cold — he was about to leave when instead he stepped on the scale. He weighed nearly 300 pounds, the heaviest he'd ever been. He then walked into the office of Tim Bream, the head football athletic trainer.
"If you let me go home, I'm going to kill myself," Julius says he told Bream.
***
Julius came back from his time at McCallum for the 2016 Penn State football season seemingly better than ever. He started speaking openly about his struggles with binge eating, restricting and purging, and returned with a vengeance on the field, continuing his tear as one of the hardest hitters in football.
But with each big hit on unsuspecting opposing kick returners, the media and the public reinforced what often fueled part of Julius' self-consciousness about his body: Kickers just aren't supposed to weigh in at 260 pounds.
"Body image is my biggest struggle," Julius says. "I think it's one of the hardest things we deal with as human beings. I was a kicker on a football team, and you'd always hear, 'He doesn't have the typical kicker's body.' But I really did not have the typical kicker's body. I was not built like a kicker. I literally looked nothing like I was 'supposed' to be."
While Happy Valley supported his success on the field and heralded his hits, they unknowingly and unintentionally contributed to the narrative that had defined Julius' entire athletic career. He didn't look like an athlete. His self-consciousness and self-loathing amplified by the day.
Throughout the fall of 2016, Julius remained under the watchful eye of the Penn State football staff and medical personnel. He says they all wanted what was best for him; his teammates, trainers, coaches, the fans — all of Nittany Nation had his back. They were a family in that sense, close-knit enough that Julius could fall back on their support when needed.
By March 2017, he needed it. Binge eating was only part of the problem for Julius, who had also long struggled with depression. The depression led to unhealthy eating, which led to a lack of sleep and placed an extra toll on his organs. As his physical health declined, so too did his mental state, and vice versa. It's a toxic cycle and the reason eating disorders are so dangerous. This spring, his sickness had taken hold again.
---
Read the rest of the story on ESPNW.