Finding Motivation Through Injury
Hearing news that you are unable to play for the remainder of a season can be very difficult to accept. All of your hard work and preparation for your competitive season comes to a pause. JD Carroll of the University of Michigan Men's Lacrosse team suffered from three season ending knee injuries since his senior year of high school leading up to his U-M debut. After speaking with JD, he shared how he was able to pick up a musical hobby to pass the time and find happiness while his teammates were competing. 
JD's first ACL tear was during his high school senior season leading up to his time at Michigan. He then suffered another ACL tear in the beginning of his sophomore season. The doctors needed to take a graft from his right quad in order to repair his left knee. He was in double knee braces and a wheelchair for some time following this procedure. Fourteen months after his second injury, JD recovered and was back on the playing field. 
The Battle
"I struggled to see the light at the end of the tunnel sometimes."
Countless hours of rehab were required for JD to get his knee in the proper shape for competition. He needed to improve his range of motion in both knees as he suffered injuries in his right and left legs. During his time away from lacrosse, he described how he struggled with weight gain due to his lack of exercise which was another obstacle that was on his mind. Mentally, JD struggled to find happiness throughout his early college athlete experience. He lost a lot of confidence in his athletic abilities. 
Enabling Motivation
JD's love for the game was the main factor that kept him motivated. He has played lacrosse since he was a little boy and wasn't going to let injuries be the deciding factor for the game to come to an end if he could help it. He knew he still had more to prove to himself.
Support Group 
"They helped build that confidence back in me"
At first, JD felt alone. He was in a wheelchair and described that it felt like he didn't relate to his peers anymore. While he was injured, he was working hard in the weight room and training room to get back to full strength. He wanted to find his role on the team and figure out how he could contribute without being able to produce on the field. He felt worthless until he discovered the Athletic Counseling Team. JD spoke often with Abigail Eiler, the Director of the Athletic Counseling Team. He described that his loneliness began to disappear. He felt like there was a great support group starting with the counseling team and, along with that, his lacrosse coaching staff and teammates were great supporters of him getting back to full health. JD's experience with the Athletic Counseling Team allowed him to express his mental battles and lack of confidence. The lacrosse team was able to get him on the right track and find his worth. 
Discovering a New Hobby
After JD's first injury he picked up the guitar in his extra time off from the sport and ended up discovering a talent that he didn't know he had. JD bought a guitar and taught himself through YouTube videos. His musical passion led him from one instrument to the next and he is now skilled in the guitar, piano, and drums. He described his musical hobby as an "out." It was a hobby that he adapted where he could just clear his mind and do something that brings him joy to get his mind off of his injury. He stuck with the guitar throughout his rehabilitation process and ended up being pretty good. So good in fact that JD would like to join a band when his college athletic career does come to an end.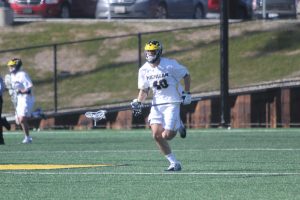 The Process
The recovery was long and dreadful, but JD got through it with great support from the counseling team, his coaches, teammates, and family. By the end of it he realized how much support he actually had. After discovering a hobby, he found new joy in his life during his time away. By his senior year he was back on the playing field and served as a key role in the men's lacrosse team's man down unit. He is healthy and happy and having success competing in the sport he has loved since he was a kid. 
Patience
Although it would have been a bonus to have Carroll back sooner, patience plays a large role in injury recovery. The coaching staff showed a great deal of patience while waiting on Carroll's return. When Carroll couldn't make it to practice the staff would reach out to him via phone call or text message to make sure everything was okay. Carroll described the coaching staff's patience to be "extremely helpful" during this process. He pushed forward when he felt comfortable in the rehabilitation process.
About the Author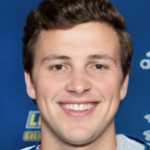 Tyler Papa is an intern with the U-M Athletic Counseling Team as he plans to graduate from his MSW program in the Spring of 2022. Tyler was also JD's teammate as a member of the University of Michigan's Mens Lacrosse Team in 2021 . He spent four years at Limestone College prior to arriving in Ann Arbor, while earning a Bachelors degree in Business Management. Tyler is from Syracuse, New York where he grew up playing lacrosse, basketball, and golf.