By Emily Klueh, LMSW
Growing up as an athlete, I always knew I wanted to achieve success and pushed myself as hard as I could, something my parents instilled in me at a young age. However, I do not remember the possibility of the Olympic Games being attainable until I was much older. Being afforded the opportunity to travel the world competing as a member of Team USA through my drive, hard work, and dedication was incredible. While competing at a high level, the concept of the Olympic Games came into view after having won an NCAA title and competing at World Championships twice. I knew I had the talent to achieve it. Unfortunately, that goal never came true for me as an athlete. Falling short at three consecutive Olympic Trial competitions was challenging, however, I never viewed success as an athlete solely on being an Olympian. One thing is for certain: there was a different plan for me that I had no idea of while competing. 
"As I stepped away from the competitive area of sport, a new passion developed. A passion to help others, to support, and advocate for a population where the idea of struggling, for so long, has been stigmatized."
As I stepped away from the competitive area of sport, a new passion developed. A passion to help others, to support, and advocate for a population where the idea of struggling, for so long, has been stigmatized. As a former elite athlete and now as a professional licensed clinician, I have been afforded the opportunity to see the sport world from two different perspectives. The work I am able to be involved with now brings new meaning for me as I help athletes work through mental health struggles, work towards their goals, and hopefully find success in and out of the sport arena. When the opportunity to work with the USOPC came into view, I knew it was the next step for myself, my career, and most importantly for continuing to support the athlete population.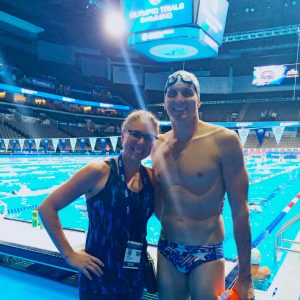 As a Mental Health Officer for the USOPC, I was able to travel to Tokyo, Japan this year as part of the Paralympic staff – something that I hold very near and dear to my heart. As an athlete, my first major international competition and my first major competition in a support and helping role was in Tokyo, Japan, an extremely unique coincidence. This time I was not traveling to compete but to provide mental health and performance support for athletes and staff. I was fortunate enough to travel with Dr. Todd Stull, a psychiatrist who specializes in working with the athlete population and another amazing resource to Team USA at the Games. The USOPC designated two Mental Health Officers, one clinician and one psychiatrist, for the Olympic and for the Paralympic games. This was the first time the USOPC had designated mental health officers for either the Olympic or Paralympic Games. I was thrilled to be a part of this inaugural position. 
This year was unique. We were in the midst of a global pandemic and therefore the Games were postponed. The COVID pandemic had not gone away by the time the Games came around. Our role was to support the mental health needs of athletes and staff while in the village and also manage the needs of those who were put into quarantine and isolation due to COVID close contacts or positive tests.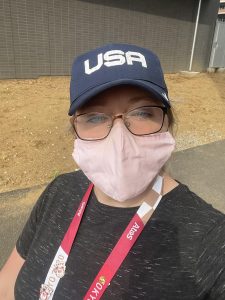 We had many responsibilities while at the Games and some of them included: 
Provide on site in-person mental health support for any Team USA athlete or staff 

Walk in or scheduled 

Daily calls and support for any athlete or staff placed in quarantine or isolation 

Coordinate care with USOPC medical staff 

Provide group support for teams and veterans, including yoga and mindfulness 

Coordinate care with the Japanese hospitals and polyclinic outside and inside the village 

Maintain documentation in the electronic medical records 

Provide crisis management 

Coordinate care with providers in the states for when athletes return home 
Every day we would wake up after sleeping on our cardboard beds, spit in a tube to be tested for COVID, and then the entire medical staff would come together and discuss care for the day or important situations that came up the prior day. Dr. Stull and I were posted in the village in a space near the medical clinic. We would provide ongoing support to athletes as needed. Athletes and staff could reach out to us via WhatsApp or come to the space we were stationed and talk to us about anything that was needed. I was incredibly honored to have been there and been able to provide something so valuable to those representing our country. 
Mental health continues to be a topic of conversation and a major push, mainly by the athletes and those of us who are incredibly passionate about mental health, fitness, and wellbeing of others. I know the resources, support, and programming will continue to grow and meet the needs of the athletes who work tirelessly to pursue their passion. I am excited to continue the conversation, be a part of and push for changes that need to be made, and to advocate for these athletes. 
If you want to learn more about how the Mental Health Officer positions came into existence, read Time for Change: Mental Health in Athletes
About the Author:
Emily is a clinical athletic counselor for the U-M athletic department's Athletic Counseling Team. She provides direct clinical care to student-athletes, consults with coaches, conducts team presentations, creates educational programming and works interactively with support staff.
A native of Kentucky, Klueh was an elite swimmer, winning an NCAA championship, being named Big Ten Swimmer of the Year and competing professionally until 2016, while also representing USA Swimming. She earned her bachelor's and master's degrees from the University of Michigan. For Athletes Connected, Emily previously served as program coordinator and is the lead on restorative yoga groups.