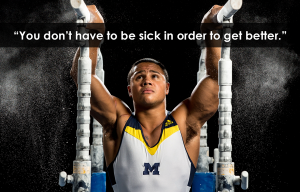 The Athletes Connected initiative seeks to increase awareness of mental health issues, reduce the stigma of help-seeking, and promote positive coping skills among student-athletes.
Since its inception, Athletes Connected has introduced programming that equips student-athletes with the skills and support they need to increase their emotional health and be successful in athletics, and other aspects of their lives, including:
Brief, engaging videos featuring former and current U-M student-athletes to help reduce stigma and encourage help-seeking
Informal, drop-in support groups designed to specifically address the unique concerns of student-athletes
Informational sessions that offer prevention and positive coping strategies (e.g. stress-reduction, resilience building) to help student-athletes understand how to manage their mental health
Research to advance our understanding of the connections between mental health and performance, and to help us further develop best practices for supporting the mental health of student-athletes
Athletes Connected is already making a very real impact on the lives of U-M student-athletes, and the program has received positive feedback from student-athletes, coaches and athletic department staff. In a survey of students who participated in the Athletes Connected first year pilot program:
63% of the student-athletes reported that emotional or mental health issues had affected their athletic performance in the last 4 weeks
99% of student-athletes indicated they found the Athletes Connected videos engaging and relevant
92% of the participating student-athletes expected to apply lessons or skills learned through the Athletes Connected support groups
Fundraising will be used to support current Athletes Connected programming including the website, support groups, educational presentations and research – while at the same time supporting the ongoing development of a long-term, comprehensive and sustainable model moving forward.