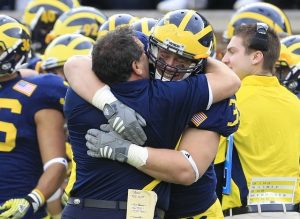 Original story on University Herald
---
By Russell Westerholm
It was after a football practice one day that Will Heininger first let anyone know he was depressed.
His interaction with a team athletic trainer that day led him to seek help, but it was Aug. and the 19-year-old defensive lineman had been harboring a secret all summer. Will made the University of Michigan football team as a walk-on, but earned a scholarship going into his second season.
"He put his arm around me, and said 'you're going to be just fine, just come with me and we'll take care of you,'" Will, 26, told University Herald of his encounter with the athletic trainer. "He walked me inside Schembechler Hall and into a woman named Barb Hansen's office."
Kally Fayhee, now 23, told University Herald she first noticed she was losing sleep sometime during her junior year at Michigan. The captain of the swimming team at the time, Kally would later identify what she was going through as bulimia.
Her grades did not suffer, but that only made hiding her condition easier.
"You can struggle internally with an eating disorder without anyone knowing and that's the terrifying part of it," Kally said.