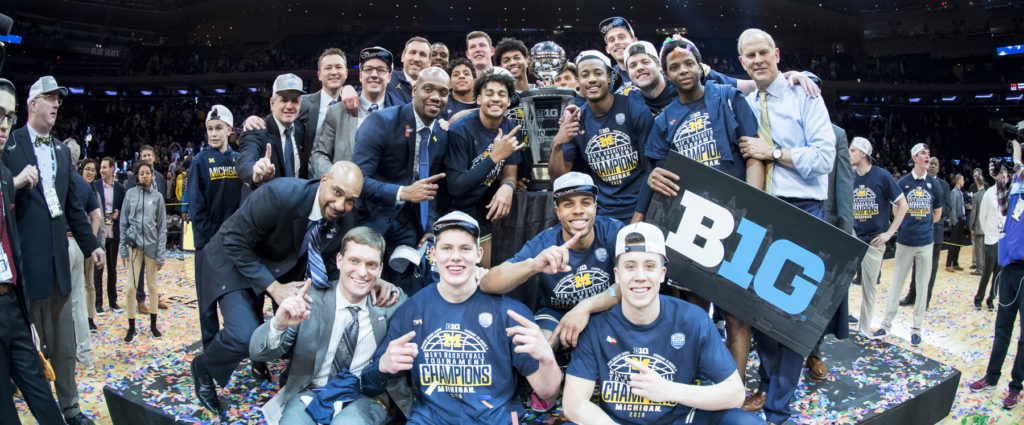 By Jeremy Fallis, Athletes Connected Communicator
The end-product of a championship season is done in public: hoisting the trophy and cutting down the nets. Beyond the scenes, however, the hours of work on the court and in the film room fuels success. There's planning, effort and sweat.
What may not be seen, but is felt by the athletes, is something that's vital to a team's triumph: support.
Head men's basketball coach John Beilein has proven that supporting a student-athletes' mental wellbeing enhances a winning culture.
"I want [students] to know: You are not alone. Everyone has similar issues, even coaches. It is all a part of life and you can manage it." — John Beilein
"I would like to be known as a teacher and mentor much more than as their coach," Beilein said of his role in his athletes' lives. "I believe mental health affects everyone. Athletes are more in public view than ever before so they have a few extra things to think about."
Shaping student-athletes to perform in all aspects of their lives is something Beilein always strives for. Creating values and a positive culture extends beyond the coaches telling players what to do. Beilein focuses on the person as a whole.
"We encourage our athletes to look at the big picture and embrace adversity," he said. "We encourage meditation and prioritize the important things in life."
Beilein, who has now led the Wolverines to back-to-back Big Ten Tournament titles, is readily aware that his position extends beyond the X's and O's. He's mindful that student-athletes may have misunderstandings about how coaches think of their mental health.
"A common misconception is that coaches only care about performance," Beilein said. "I sincerely believe most coaches love their student-athletes and feel that their student-athlete personal welfare is more important than their performance."
Coaches can play a dynamic role in encouraging their student-athletes to seek support systems, such as wellness groups or counseling, for wherever they fall on the spectrum of wellbeing. Since 2014, when Athletes Connected was launched, the program has hosted wellness groups for all student-athletes on a bi-weekly basis, in addition to the already existing services provided by U-M Performance Psychology Athletic Counseling.
Beilein has been a supporter of Athletes Connected since its inception. He's acknowledged that he felt "virtually helpless as a coach" in previous instances of student-athletes battling depression.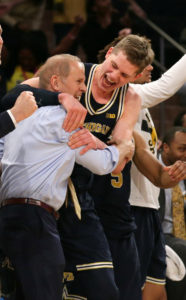 "We recommend our student-athletes speak with our counselors," added Beilein. "We introduce our counseling staff to our players in one of our first team meetings of the year."
Continuing on, Beilein stays involved in the process to assure his athletes are feeling healthy.
"I want to be connected and up-to-date on what is available and what strategies are available."
The University of Michigan has been at the forefront of student-athlete mental health awareness and wellbeing. In addition to PPAC and Athletes Connected, the athletic department unveiled a Messages of Hope Board in the Ross Athletic Center where athletes can write positive and supportive notes to leave for one another or take pre-written notes that are meaningful to keep. The board has been widely popular since its unveiling in September.
"I believe students are much more open about discussing these things that may inhibit their quality of life and peak performance," Beilein said. "I want them to know: you are not alone. Everyone has similar issues, even coaches. It is all a part of life and you can manage it."
About Athletes Connected
Formed in 2014 on an NCAA pilot grant by a collaboration of University of Michigan Depression Center, Athletics and School of Public Health, Athletes Connected actively works to provide student-athletes with the tools and resources possible to support student-athletes along the continuum of wellbeing. Athletes Connected does this by promoting awareness of mental health issues, reducing the stigma of help-seeking and promoting positive coping skills among student-athletes. To learn more about the program, view the entire catalog of videos, read original stories and access helpful resources for student-athletes and non-athletes alike.