Read the original story from the BBC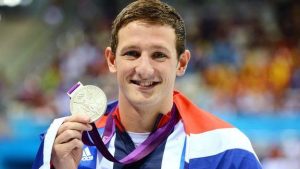 London 2012 Olympic silver medallist Michael Jamieson has said UK sporting bodies need to pay more attention to elite athletes' mental health.
The 28-year-old Scot said UK Sport was run as a business with no "direct responsibility" for athlete wellbeing.
Jamieson has announced his retirement from swimming, revealing how a brutal training regime led to depression.
UK Sport said it took its duty of care to athletes "very seriously", offering a comprehensive" package of support".
Speaking on BBC Radio Scotland's Kaye Adams programme, the swimmer said he thought that increasing pressure to win medals could have an impact on the mental health of many athletes.
"There's been so much success particularly in British sport over recent years that we've just becoming accustomed to British athletes winning Olympic gold medals and the work and preparation that goes into that is a decade long."
Despite the huge sacrifices many athletes make to get to the top, Jamieson said he believed more could be done to care for their wellbeing.
"Ultimately UK Sport is a business and it's run as such. If sports are looked at as not being able to win the medals they need to justify their funding, then they're being cut as we've seen recently.
"It's terribly sad for the athletes involved that are directly affected by it.
"But it's a tough one because UK Sport and other federations involved don't have a direct responsibility for athlete wellbeing. It's not really their responsibility.
"They're there to provide a platform for athletes to win medals."
Jamieson's career highlight was an Olympic silver in 2012
Jamieson broke his own British record to finish second in the 200m breaststroke in the 2012 Olympics, but missed out on a medal at the 2013 World Championships after a series of shoulder injuries.
Overtraining in preparation for the 2014 Commonwealth Games led to his heart being restarted and he was beaten by compatriot Ross Murdoch in his favoured event in Glasgow.
He failed to qualify for the World Championships in 2015 and missed out on selection for the 2016 Rio Olympics.
The swimmer told BBC Scotland it was common for many elite athletes to over-analyse their day-to-day performance.
Read the rest of the story