Below is an excerpt from MLive.com
---
By Ryan Zuke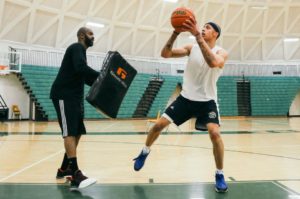 Ty Groce had it all going right for him on the basketball court during his senior year at Ypsilanti Lincoln.
He was a match-up nightmare against opponents, averaging 17.6 points, 11.7 rebounds, 4.4 blocks and 3.4 steals per game. The 6-foot-7 forward earned Class A all-state honors and had a scholarship to play at Northeastern University.
But away from the gym was a different story. Groce was trapped inside his own mind, always feeling sad and depressed without understanding why. Then, Groce's emotions reached a tipping point during the first week he was at Northeastern in the summer of 2016.
"Starting at the beginning of my senior year, I was feeling sad and was always down for no reason," Groce said. "As my senior year progressed, it just got worse and worse. Toward graduation, I was dealing with a lot of stress and anxiety and didn't really know what the problem was.
"When I left for Northeastern, I just crashed. I felt like I was losing my mind there. I was just sad all the time for no reason, couldn't focus on the gym, couldn't focus on my summer classes."
Suddenly, basketball became an afterthought. Groce's main priority was getting his life back on track.
"I have never felt better," he said. "I feel almost 100 percent now. Since I came home, I got help immediately, so I've been working with my therapist and nurse practitioner. Since then, I have been getting better and better each day. I feel great now."
COMING HOME
Groce, who turns 19 May 27, transferred to Eastern Michigan and moved home before he ever stepped on the court for Northeastern. He put playing basketball on hold and focused on getting help.
Groce was diagnosed with major depression and bipolar disorder last fall and immediately began therapy.
Depression is a mood disorder that causes a persistent feeling of sadness and loss of interest. It affects about 6.7 percent of the U.S. population age 18 and older, according to the Anxiety and Depression Association of American.
Bipolar is a brain disorder that causes unusual shifts in a person's mood, energy, and ability to function.
Fast forward to April and Groce already has seen positive results battling the illnesses.
"I have never felt better," he said. "I feel almost 100 percent now. Since I came home, I got help immediately, so I've been working with my therapist and nurse practitioner. Since then, I have been getting better and better each day. I feel great now."
---