Athletes Connected caught up with women's gymnastics national champion (2021), AAI award winner (2022), and Student-Athlete Advisory Council (SAAC) Mental Health Liaison Natalie Wojcik. Natalie is a 5th-year senior in the School of Social Work and graduate intern with the Athletic Counseling Team. Natalie shares her academic and athletic journey and how she got involved in mental health initiatives at U-M.
The Athletes Connected program recognizes the many factors that may influence student-athlete mental health. As part of our Q&A series, Athletes Connected shares how coaches, administrators, athletic trainers, and other staff approach their roles in the lives of student-athlete health and well-being.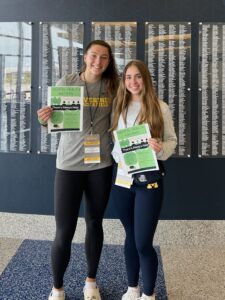 See our previous Q&A posts:
---
Q: What was your introduction to mental health?
A: I remember in high school science class we had a unit about the brain and a very brief introduction to psychology. I just remember thinking how cool it was to learn about the way our brains control our experience of life and I was really intrigued by that. It ultimately sparked my interest in pursuing a psychology major as one of my undergraduate majors.
Q: What made you want to go into social work for graduate school and pursue mental health even further through an internship with the athletic counseling team?
A: I think it's a pretty natural progression for a lot of people who major in psychology to then go into social work. I felt like a lot of my classes in undergrad were focused on cognitive psychology, which was my favorite thing to learn about, but I also didn't get as much of the social side of things. I wanted to learn more about systemic impacts on human experience in addition to the cognitive side of things, so I feel like my graduate degree coupled with my undergraduate degree helps give me a better understanding of the human experience. Also, as a student athlete myself, I've always been really passionate about student athlete mental health and that's what led me to pursue an internship with athletics counseling.
Q: Since being at Michigan, how have those around you supported your mental health?
A: I think there's kind of two sides to it. One, the resources that are available to me as an athlete have been really helpful. There isn't just one way to go about taking care of your mental health here and I love all the options that are offered. And two, I feel like as a fifth year I've seen a significant decrease in the stigma surrounding mental health. I remember as a freshman, it was something that I didn't hear get talked about very often and now I hardly go a day without having a conversation about mental health. So, it's been really cool to see it become something that's normalized and talked about and I think it makes seeking help or aid for mental health a lot easier.
I would say to intentionally prioritize your mental health. It's going to look different for everyone. It's something that you're always going to have and is always going to be with you throughout your day, throughout your week, and throughout the rest of your life.
Q: How did you become a mental health liaison?
A: I joined SAAC my sophomore year and as a part of joining you're required to join a subcommittee. I immediately knew that I wanted to join the Mental Health Subcommittee. It was something I was really interested in learning more about and getting hands-on experience with. After a couple of years in SAAC, I submitted an application to be one of the mental health chairs. We have two chairs because it's a role that comes with a lot of responsibility, and so I'm a chair member alongside Clare McNamara where we're in charge of the subcommittee, making us mental health liaisons.
Q: What are some of the goals that you and your fellow SAAC members have for mental health for the 2022-2023 year? Upcoming 2023-2024 year?
A: We've been working really hard again this year just to reduce the stigma. Something I really enjoyed this year was setting up a table at the volleyball mental health awareness game where we were able to pass out flyers and talk to people about what we do for mental health with SAAC. We also recently provided a QPR suicide prevention training for student-athletes. In addition to that, we're trying to implement some events for student athletes that can serve as more of a mental health break as opposed to being informational. We've been working on finding some ways for student athletes to connect and talk about mental health in a more casual setting.
We've also been trying to do a board game night series at the AC where athletes can come and play games. We're going to do a hot cocoa and coloring day as well as therapy dogs.
Q: What do you like to do to stay mentally well?
A: I think the biggest component of mental wellness for me is finding a balance between all the aspects of my life and doing my best to not get consumed by any one thing, whether it be school, athletics, work, or my personal life. I really try to take things as they come, have a very neutral sense of things, and intentionally schedule my day to make time for the things that I want to prioritize.
Q: In terms of performance, how do you get into a good headspace for competition?
A: I'm really big on visualization. I spend a good amount of time the night before competition as well as the day of visualizing routines. In addition to that, I use a lot of mental cues when competing, which kind of go hand in hand in helping me feel my best when going into meets.
Q: Having been a Michigan athlete for five years now, what piece of advice could you offer to current or future student-athletes?
A: That's a tough one. I guess I would say to intentionally prioritize your mental health. While I wish it was something that came without work, it definitely requires putting in work whether that means finding personal balance, joining groups, meeting with the counselors, etc. It's going to look different for everyone. It's something that you're always going to have and is always going to be with you throughout your day, throughout your week, and throughout the rest of your life.