Read the original story on SwimSwam.com
---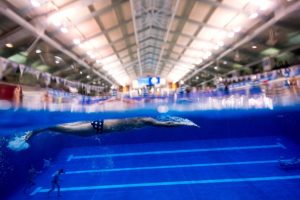 Resiliency is a skill used to describe student athletes. These athletes wake up before most ever want to. They train hard when tired, stressed and over worked, and are able to do this day after day after day. Being in a training environment and at a university with support staff that are professionally trained and ready to handle the struggles student athletes face is paramount to their success. Many universities have dedicated staff to work with these athletes. At the University of Michigan, where I am doing my internship for my graduate degree there are three full-time counselors dedicated to work with the student athletes. Barb Hansen, one of these counselors, has been employed at the University of Michigan since 2006. She has helped hundreds of student athletes not only perform better in their sport but also grow and develop into young adults. She has helped them navigate the stressors of college life, balance school and academics, work through very hard times of struggling, and understand the power of their own minds.
In this article, Barb talks about what it is like to work with the student athlete population and what to do if you or someone you know needs help.
1. IN YOUR EXPERIENCE, WHAT MAKES ATHLETES DIFFERENT TO WORK WITH THAN THE GENERAL POPULATION?
Athletes are in a very competitive environment where "toughness" is valued. Athletes have significant additional demands on their time, leaving them very little time to fully experience college life. Because of the drive, determination, and competitiveness most athletes possess, they often achieve numerous successes. However, it is also stressful when they aren't getting the results they are working so hard for and they can be very self-critical. Athletes may fear losing status on the team or playing time if they acknowledge they are struggling with something. As a result, many either don't get help, or wait until it reaches a crisis to reach out for help. That "toughness" is a double edge sword.
2. WHAT DO YOU ENJOY MOST ABOUT WORKING WITH ATHLETES?
I really enjoy the athletes' drive and dedication. They are excited to participate and improve. They are hungry and want to reach their potential. They certainly struggle with confidence from time to time, but they have a history of success and improving that they can look to in those more difficult times.
3. WHAT RESILIENCY FACTORS DO YOU THINK ATHLETES POSSESS AND HOW DO YOU WORK WITH THEM TO UTILIZE THOSE QUALITIES?
They really have many more skills and abilities than they are aware of sometimes. My work with them often is to help them uncover and recognize those strengths, add to their skills to manage disappointments and successes and manage pressure. Their ability to "bounce back" is impacted by a combination of life experiences, support systems and beliefs about themselves, as well as their ability to separate out each performance, race, game, etc. from every other one. If they can view each competition, moment in a competition, as another opportunity to improve, it helps set the stage for them to achieve the success they seek. Growth mindset is key to resilience. It can be learned.
4. WHEN DO YOU THINK IS THE BEST TIME FOR AN ATHLETE TO REACH OUT WHEN STRUGGLING?
It would be great if athletes reached out at the earliest signs of struggles but athletes, like most people, usually first try to solve things themselves. Sometimes athletes wait until things reach a crisis point.
5. WHAT IS YOUR ADVICE TO PARENTS, FRIENDS, AND COACHES WHEN THEY SEE SOMEONE STRUGGLING?
When a parent, friend or coach sees an athlete seeming to be struggling with something, don't hesitate to express concern for them, identify what they are seeing that raises the concern and offer to help. They can help by listening and/or assisting them to find a mental health professional. They can offer to go with them to an appointment. That may be more useful coming from a friend than a parent or coach however.
6. WHERE DO YOU SEE THE FIELD OF MENTAL HEALTH MOVING AND HOW DO YOU SEE THIS BENEFITING THE ATHLETES?
I think the tide has just begun to turn with increasing recognition that without good mental health, athletes will not be able to perform at their best athletically, academically, or in life. I am encouraged to see the focus the NCAA has been putting on mental health for student athletes and campuses around the country are beginning to do more with increasing awareness and services.
Athletes Connected is a program Michigan has created with the funding from a grant given from the NCAA. Last year the NCAA supported five universities with various grants, in efforts to look at the mental wellbeing in student athletes. This discussion is now being spoken about and addressed at all levels. Resources are available to you. Reach out to see what services are available to you. There is no need to suffer in silence.