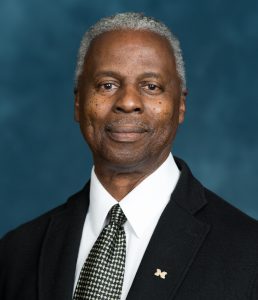 ANN ARBOR, Mich. – The University of Michigan's Athletes Connected program released a new video Wednesday afternoon about Greg Harden, senior executive athletic director and director of athletic counseling at the University of Michigan. Harden discusses his passion and process for mental health wellness from his 33-year career in collegiate athletics.
"The real mission," Harden states. "My objective, my obsession, is to help people become the world's greatest experts in one subject: on themselves."
"The real mission, my objective, my obsession, is to help people become the world's greatest experts in one subject: on themselves." — Greg Harden
Harden ascribes to the practice of "controlling the controllables," which has benefited generations of Michigan student-athletes. This ethos allows the Athletics Counseling Team (ACT), which Harden oversees, to provide necessary care and guidance to the nearly 900 student-athletes at Michigan.
"I'm so excited about what it means to have the type of team that we have," Harden says of the ACT counselors. "And as our athletic director [Warde Manuel] indicates, if the center of the target is the student-athlete then we're moving in the right direction."
Harden began his counseling career at Michigan in 1986. Harden is entering his 18th year as the director of athletic counseling and seventh year as executive associate athletic director. He has been instrumental in aiding the athletic department in the design and implementation of the student and staff development strategies. Harden's collaborative style and efforts have helped to strengthen the athletic department's connection with the larger university community.
U-M Mental Health Legacy; GREG HARDEN

About Athletes Connected
Formed in 2014 on an NCAA pilot grant by a collaboration of University of Michigan Depression Center, Athletics and School of Public Health, Athletes Connected actively works to provide student-athletes with the tools and resources possible to support student-athletes along the continuum of wellbeing. Athletes Connected does this by promoting awareness of mental health issues, reducing the stigma of help-seeking and promoting positive coping skills among student-athletes. To learn more about the program, view the entire catalog of videos, read original stories and access helpful resources for student-athletes and non-athletes alike.