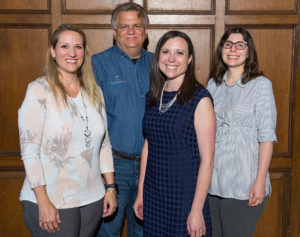 The University of Michigan presented the inaugural University of Michigan Staff Impact Awards on Monday, May 21. Athletes Connected's Stephanie Salazar, program manager for the U-M Depression Center, was one of four supervisor award recipients.
"The amazing dedication, effort and talent of our staff is absolutely critical for us to meet our missions of education and care," said Kevin Hegarty, executive vice president and chief financial officer at U-M, addressing the award recipients. "Which is why I am so passionate about honoring and celebrating your truly transformative service with these awards. I am truly in awe of your efforts and the work we all do as a staff community."
From the formal press release:
The Staff Impact Awards celebrate those who champion volunteerism and service within the university, and who find ways to collaborate across units and find solutions to make the workplace better for all. The award recognizes staff, supervisors and teams that make an impact with their work, locally and beyond.
The awards were developed from recommendations of a Voices of the Staff committee and are sponsored by the Office of the Chief Financial Officer in partnership with University Human Resources.