By Emily Klueh, LMSW
Over the past seven years there has been a shift in the conversation regarding mental health among the nation's top athletes. Many athletes have become more open about their own mental health experiences and the conferences and leagues for which they play have begun adopting policies to support athlete wellness. In 2014, the NCAA started to make mental health a priority topic, eventually creating a best practices manual for schools to adopt in 2016. In 2019, they passed legislation that required the five major conferences to provide mental health support to student athletes. 
Professional sports soon followed the NCAA's lead. In 2018, the NBA instituted a mental health and wellness program for its players called Mind Health. In 2019, the NFL implemented a policy that stated every team must employ a mental health professional at least part-time. The MLB has partnered with a variety of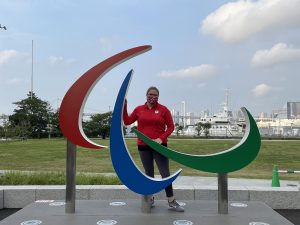 services and companies to provide mental wellness services to both major and minor league players. Similarly, the NHL has seen a rise in conversations around mental health and player-developed programs and resources. In 2020, the US Olympic and Paralympic Committee (USOPC) also created new mental health programming and extensive resources for athletes representing the United States. While these policies and programs provide increased access to resources for athletes, many teams and individuals within these organizations had resources available for their athletes years prior.

Being a clinician in the Athletic Department at the University of Michigan, I have been able to see firsthand how having these resources available positively influences the student-athlete experience and performance academically and athletically. Because of the work I have been able to be part of at Michigan, as well as my history as an elite athlete as a member of Team USA, I was afforded the opportunity to be a part of the broad sweeping changes and implementation of resources and programs at the USOPC. While there have been support individuals for Team USA athletes at past Olympic Games, for the 2020 (2021) Olympic and Paralympic Games the USOPC recognized more was needed. For the first time, they contracted Mental Health Officers who were a part of the medical staff for athletes and staff attending the games. Four providers, two psychiatrists and two clinicians, were selected for this initial role. I was fortunate enough to be one of those clinicians selected to support Team USA. 
As we geared up for the 2020 games, the world was hit with the COVID-19 pandemic that halted many plans. Our athletes and teams were informed the Games would be postponed until 2021 — a historic and never-before seen move from the International Olympic Committee. This hit our athletes in a variety of ways. Some athletes were already selected to compete and now they would have to reevaluate their plans. Some athletes were devastated by the postponement, and others were happy as they would have another year to prepare. There were questions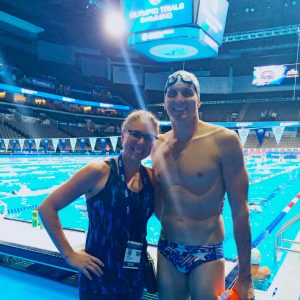 , worries, and concerns about ability to train, fears of getting sick, and struggles with the shift in plans outside athletics. Due to the postponement and the fact that we were already selected to help with the games, the USOPC contracted us to help with programming and policies beyond what our original role would have been. During this time, we worked on an emergency action plan for the USOPC and the national governing bodies. We hired the director of mental health services for the USOPC, Dr. Jessica Bartley. We then worked with her to create a mental health registry for our athletes to access across the country, and hired associate directors of mental health for the different training sites, among other support resources. A challenge for the USOPC in trying to implement support services for the athletes remained because athletes are not centralized to one location. Due to state licensure laws, continuity of care becomes challenging. This is why the mental health registry was so vital to create.

As seen with the recent increase in priority of the mental health support for athletes across the country, having these major organizations increase awareness and support is crucial to continue changing the narrative of mental health among the athlete population. The changes, new structure, and support available made me more excited for the job at the Games. Knowing that our athletes would be taken care of better than they ever had was exciting and I could not wait to get to Tokyo. It is easy for me to look back as an athlete and be frustrated with the lack of mental health resources that were available to me and my teammates, however, one thing I know is that isn't helpful for me to dwell. We can only continue to move forward, advocate for change, and work to help. Things are shifting for the better at many levels of play, across leagues and conferences, and I am proud, honored, and thrilled to be a part of it.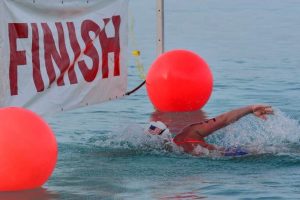 About the Author:
Emily is a clinical athletic counselor for the U-M athletic department's Athletic Counseling Team. She provides direct clinical care to student-athletes, consults with coaches, conducts team presentations, creates educational programming and works interactively with support staff.
A native of Kentucky, Klueh was an elite swimmer, winning an NCAA championship, being named Big Ten Swimmer of the Year and competing professionally until 2016, while also representing USA Swimming. She earned her bachelor's and master's degrees from the University of Michigan. For Athletes Connected, Emily previously served as program coordinator and is the lead on restorative yoga groups.