This article is in support of Athletes Connected's new Life After Sports initiative to support student-athletes when their athletic careers conclude. The University of Michigan is committed to supporting former student-athletes by providing resources to finding a provider and understanding insurance.
By Will Heininger, Mental Health Outreach Coordinator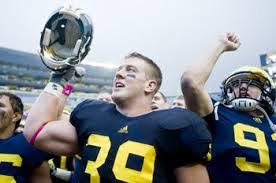 As student-athletes, we are conditioned to respond; to an opponent's movement, to the whistle, to our coaches, to the needs of our bodies, and so on. We spend the first semester – or a couple semesters – acclimating to the intense schedules of college athletics. It can be quite an adjustment to master the demands of 6 a.m. lift, class-lunch-practice, dinner-film-study hall, and still trying to get to bed for the needed 7-8 hours of sleep per night. Oh, and that workload of being a full-time student? The actual 'student' part of 'student-athlete'? We learn to adapt, and make time for that too.
You may not realize it yet, but it's unlikely that most of us will work more hours per week in the professional world than the 70-80+ hours we spend on school, practices, competitions, and travel during our playing careers. For those who do surpass their collegiate workload in the professional world, even then it's safe to say that their routines won't be as physically demanding as they were in college (squats & sprints in the office, anyone?). I stress this to point out that succeeding post-playing career often comes down to working smarter, not necessarily harder, than you did in college.
When we're busy student-athletes, it's natural to be so focused on our own responsibilities that we fail to realize all the structured support put in place to help us succeed. Whether it's training table, tutors, career preparation services, strength coaches, operations staff to book team travel, athletic trainers, physicians, or surgeons, we are often blessed with an abundance of resources. These benefits don't just appear in our lives out of nowhere; they are designed to make our rides as smooth as possible, so we can actually focus on the two full-time jobs of school and sport. Speaking of full-time jobs, these services are provided by professionals – other human beings – hired by our universities to make us healthier, faster, stronger, safer, and more prepared. Don't let it be lost on you that during our playing careers, we have as talented and dedicated a support staff as we ever will again. That bears repeating, so I'll say it again: during our playing careers, we have as talented and dedicated a support staff as we ever will again.
Succeeding post-playing career often comes down to working smarter, not necessarily harder, than you did in college. Visit the new Life After Sport section to learn more.
When we retire from our sports, it is natural to experience loss. But let's look a little closer at what we lose. Just a few components of these losses are:
Structured, scheduled daily exercise

Social connection to teammates

Common purpose, belonging

Prepared meals – ready when you are

Identity as an athlete

(often cultivated over 15-20 years)

Immediate access to elite medical care
As we plan for happy, productive, successful lives after athletics, it's important to consider how each of these potential losses relate to our well-being. The Wellness Wheel (courtesy of Wolverine Wellness) below outlines eight key components of wellbeing. While few people are fulfilled in all areas at once, the idea is that working on these areas of our lives can help us find and maintain a sense of balance and well-being. One might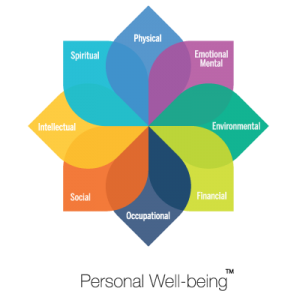 argue the end of an athletic career could disrupt any or all of these components in an individual's life, depending on their relationship with their sport.
As we transition out of organized sport, how might we find replacements for the components of well-being thatour sports provided? Instead of putting pressure on yourself to 'work harder' in your post-playing career, I challenge you to put that effort into your own wellness. Remember, all those trainers, tutors, and doctors are no longer on demand. Your energy, mood, and ultimately your success are greatly impacted by your well-being, either positively or negatively. By building a solid foundation rooted in your wellness, not only will you be happier and perform at higher levels professionally, but you'll understand why you're thriving. You'll become familiar with your own recipe for wellness, as well as what might threaten it, as you find adjust to your 'new normal.'
With that in mind, let's look at one potential loss, and one idea in each area of well-being to get you started on a post-playing wellness plan:
Physical

Loss: Regularly scheduled, intense exercise

Idea: Join a gym or a fitness club near your work or home

Idea: Establish a relationship with a new primary care doctor you like
---
Emotional/Mental
---
Environmental

Loss: no longer going daily to the same building for meetings, lifting, practice

Idea: Find a comfortable spot that you can easily visit. A café, library, waterfront, yoga studio, park, etc.
---
Financial

Loss: Scholarship check, meals, gear, etc.

Idea: Meet with a financial counselor to set up a plan you feel confident in
---
Occupational

Loss: The relationships, achievements, identity, and experiences from your sport

Idea: Make a list of helpful skills you've already developed in college (time management., internal drive, etc.). How can these translate to your personal and professional life? Which skills might not be as helpful anymore?
---
Social

Loss: Connections and relationships to teammates and coaches

Idea: Join a rec sports league through work or with friends. Rec sports are a great way to get exercise, have fun, and meet new people.
---
Intellectual

Loss: The mental preparation for your sport. Strategy, game plan, film, etc.

Idea: Find a new intellectual pursuit – read a book that interests you, try a new hobby like chess, Sudoku, crossword puzzles, etc.
---
Spiritual

Loss: Purpose/belonging from your athletic identity. Perhaps a place of worship, or a religious group on campus, that you might've attended in school.

Idea: Remind yourself every day that your spiritual well-being is important. Even if you don't connect with any traditional spirituality, feeding your human spirit can go a long way.

Idea: Living with purpose often means living in alignment with our values. Write down 3-5 core values you want to live by, and put them up in your home somewhere you'll see them regularly. Check in with yourself to ask if you're living in line with your values.
---
About the Author: 
Will Heininger is mental health educator and public speaker for the University of Michigan Depression Center, openly sharing his story of overcoming major depression and anxiety during undergrad, while playing football at Michigan. After hiding his illness at first due to stigma and ignorance, he received life-changing treatment and care from the Athletic Medicine staff, and was able to thrive for the majority of his time at Michigan. He would go on to help found Athletes Connected in 2014.
Since first sharing his story at the Depression on College Campuses Conference, Will has spoken with over 100,000 people across the country, helping to bridge the gap between what science and medicine have learned about mental health and well-being, and what society actually knows and uses. In addition to athletes of all levels, Will works with schools, athletic departments, communities, and corporations to improve mental health outcomes. A native of Ann Arbor, Michigan, Heininger claims beating Ohio State on Senior Day at the Big House as his favorite Michigan memory.