By Alex Black, MSW 
The transition from undergrad to graduate school can be exciting as you start to focus on a curated skill set that will shape your future career path, but can also become challenging for various reasons, especially as a student-athlete. It is important to acknowledge that everyone has their own journey. Some of the changes that occur during the transition may be unanticipated and significant. Being aware of these changes as potential stressors can be helpful in preparing for, adapting and coping with them as they appear. 
Graduate school schedules could potentially include internships or research, in addition to classes, homework, continuous training, traveling, and competing as an athlete. Student-athletes may be required to make adjustments and begin exploring options to discover what works best for them to manage their time and responsibilities. They will be challenged to become more self-aware and move with intentionality. Thus, the importance of establishing a support system you can rely on, and budgeting time to accommodate for this new extension of work life.
Projected Adjustments:
Environment. The culture of professional schools can be more intense than what you experienced in undergrad. The environment that you will be spending the majority of your learning time in is significant, having the potential to influence your thoughts, feelings and behaviors.  
Expectations. The responsibilities of graduate students are extensive. Fortunately, this experience will provide you with more opportunities to be mentored. Be prepared for your mentors to challenge you and hold you accountable. Additionally, the expectations set by yourself, professors, peers and employers will shift. Having conversations to create shared understanding about goals and expectations can help make your experience less stressful and more productive. Goals are essential to productivity, maximize on the opportunity to utilize and learn skills on goal setting.
Class structures. The amount of time that you are in class and the number of days that you have class may change drastically. The class sessions are typically longer, and the class sizes are often smaller depending on the amount of students in your program and/or cohort. Smaller class sizes enhance your ability to develop fruitful relationships with professors. Larger class sizes could provide students with the opportunity to network with classmates. Take advantage of the time and class sizes to create connections with your instructors and peers, and ask for help when you may need it. 
Social Norms. The schedules of graduate students are typically demanding and fluctuate often. As a result, some students may be less likely to engage in social activities and it might become harder to communicate with people outside of graduate school – don't take it personally! It can still be helpful to try to connect with others outside of your sport to broaden your network.
Relationships. The relationship with school itself has the potential to change. Moreover, relationships between peers, professors, advisors, administrators, among others will shift. You will have the opportunity to determine and control the depth of each relationship you develop.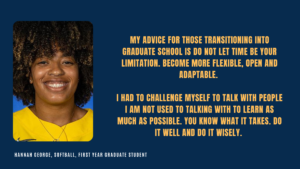 Time Management. Student schedules will vary, but the demand of graduate school is definitely different from undergrad. While you still have a lot to balance, the good news is that you may find that you actually have more time to yourself depending on the length and format of the program.
Self-Motivation. The journey of completing an advanced degree has the potential to become lonely and overwhelming. You may find yourself suffering from imposter syndrome, but know that experiencing self-doubt is extremely common, especially among graduate students. You are not alone. You may also find increased motivation in a graduate program as you are now able to focus on courses and subjects that excite you. 
Student to Expert. You may feel challenged with discovering your specialty in graduate school. Throughout your time in the program, you will be tasked with assessing, understanding, and applying material to your practice. While it can feel stressful at times, it is also great practice preparing you for life after receiving your degrees. 
Just knowing and anticipating potential challenges can be helpful in preparing to cope, but there are also specific actions that can be beneficial during the transition.  
Suggestions
Do your research. Become curious, ask questions and move with intention. Look into connecting with individuals that have similar interests, experiences, goals and values. There may be other former or current student-athletes in your program as well. Try putting some effort into your experience and start to build your network both socially and professionally.
Advocate for yourself. You know your needs and wants. Become vocal and take control of your journey. Ask for help and communicate. You're the expert on yourself.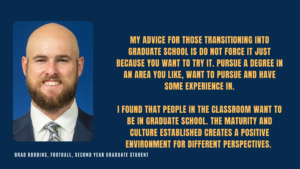 Cherish relationships with peers. Peers and classmates might have similar values, goals and intentions. The relationships developed have the potential to be more genuine and have more substance. They also may be your future colleagues or who you reach out to for professional help in the future. Everyone is there for one shared reason, which is to receive a degree and become an "expert" in their particular field. 
Build your own community. Graduate school requires you to become more intentional with building relationships. Moreover, many students are in different periods of their lives, so external responsibilities vary. Join a student organization that piques your interest and/or connect with faculty that have similar interests as you and can serve as mentors. 
Constantly reflect. Reflection is a great tool for growth and development. It provides you with the opportunity to gain understanding and learn more about yourself. 
While like any transition, the transition from undergrad to graduate school has the potential to be stressful, there is so much opportunity for growth and skill development. Making your well-being a priority as much as your academic and athletic pursuits will continue to be important through the transition and beyond.
Support & Resources
Michigan Athletics Career Center (MACC)
Counseling and Psychological Services (CAPS)
Student athlete groups (Athlete Ally, Women Uplifting Women, Student Athlete Advisory Committee (SAAC), Intercollegiate Athlete Network (IAN), Athletes in Action)
Maize Pages (Clubs & Student Orgs)
---
About the Author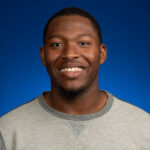 Alex Black is an MSW Intern for the U-M Athletic Counseling Team. He is originally from Los Angeles, CA, where he grew up playing basketball, baseball and football. Alex graduated from Morehouse College in 2020 with a BA in Psychology and a minor in Business Administration. After graduating, he joined the Alliance of Social Workers in Sport (ASWIS) as an intern and received his Sport Social Work Certification, during which time he interned with the LA Dodgers Foundation. He completed his MSW from U-M in December of 2022.