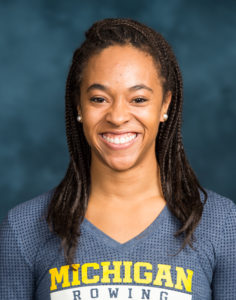 ANN ARBOR, Mich. – Athletes Connected, a University of Michigan collaborative program between the Depression Center, Intercollegiate Athletics and School of Public Health, released the final video in a three-part series on Monday that addresses the impact of student-athlete injury on mental health.
"I was scared and embarrassed to ask for help."
In this installment, former U-M rower and co-captain Arielle Sanders details how her recurring injury affected her mental health. Eventually, the injury forces her to miss time and medically retire from the team, a devastating decision that affects Sanders deeply.
Arielle goes from loving a sport and her team to feeling isolated because of the injury. Negative thoughts fill her mind as she feels sorry for herself.
Sanders notes that "I was scared and embarrassed to ask for help." Later, she attends Athletes Connected wellness groups and learns that "I shouldn't suffer in silence."
Communication with her teammates and coaches helped Arielle get past her first injury setback. Unfortunately, the injury returns and forces Arielle to seek medical retirement. While she feels that she let her team down, it's her teammates that meet her with unwavering support. And she ultimately leads the team, not as a captain, but as a student coach.
The sixth-ranked Michigan rowing team won 13 of 14 races this past weekend at Belleville Lake. The Wolverines took all seven contests against No. 16 Indiana and six more against No. 11 Iowa.
Career-Ending Injury; ARIELLE SANDERS, Rowing

About Athletes Connected
Formed in 2014 on an NCAA pilot grant by a collaboration of University of Michigan Depression Center, Athletics and School of Public Health, Athletes Connected actively works to provide student-athletes with the tools and resources possible to support student-athletes along the continuum of wellbeing. Athletes Connected does this by promoting awareness of mental health issues, reducing the stigma of help-seeking and promoting positive coping skills among student-athletes. To learn more about the program, view the entire catalog of videos, read original stories and access helpful resources for student-athletes and non-athletes alike.