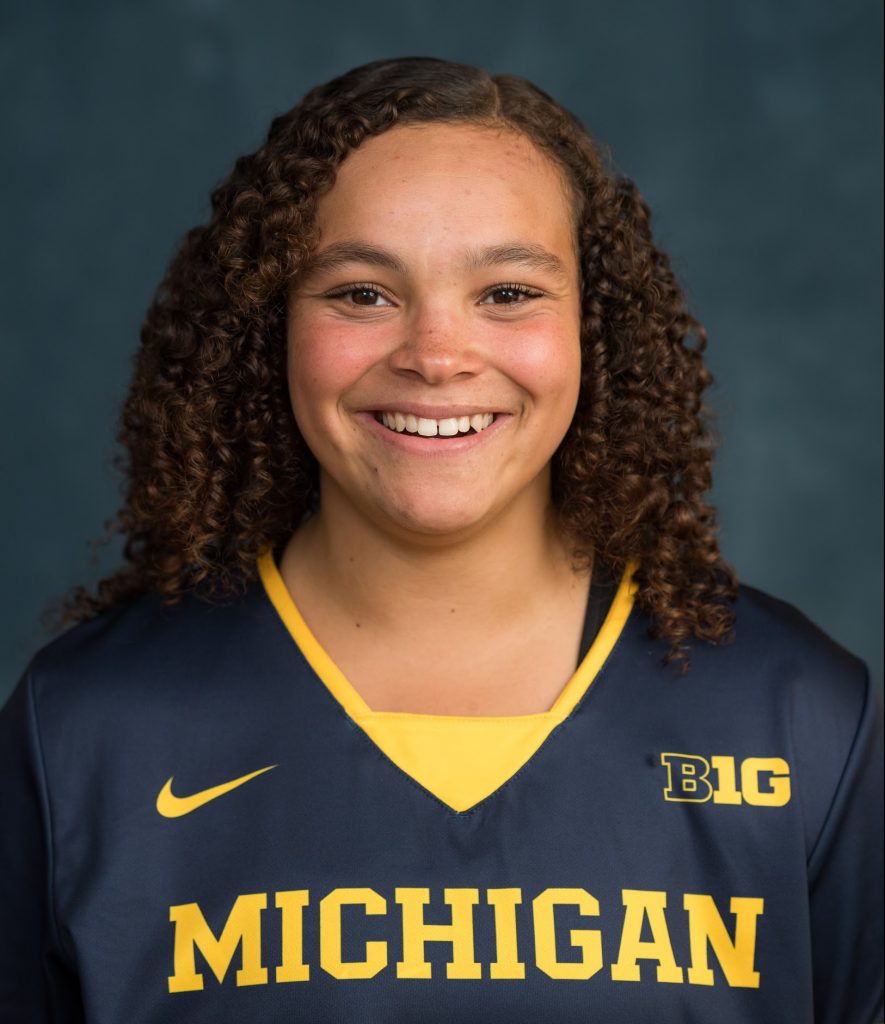 ANN ARBOR, Mich. – Athletes Connected, a University of Michigan collaborative program between the Depression Center, Intercollegiate Athletics and School of Public Health, released a new video on Thursday for the 2018-19 academic year focusing on the impact of mental health in the transition to college athletics.
In this installment, current U-M lacrosse goalie Mira Shane reflects to her younger self about her transition to college, athletics, academics and social life during her freshman year.
Shane, the mental health liaison for the Michigan Student-Athlete Advisory Council, pens a letter about her mental health in this uplifting film as she recognizes key things that aid her success in college.
Shane writes to herself, "I am still trying to get better: trying to save shots, being a wave of positive energy, singing in my a capella group, because these are the things that make me, me. I realized it was OK to feel overwhelmed, to keep up with school, lacrosse, a social life; it's not supposed to be easy."
I realized it was OK to feel overwhelmed, to keep up with school, lacrosse, a social life; it's not supposed to be easy.
Later, Shane learns clarify as she acknowledges, "It has taken me this long, from freshman to now senior year, to realize that it's the people surrounding me that are the ones getting me through the tough times. It's these people who have shaped my story, giving me the strength to keep smiling, giving me the power to keep saving, and it's these people that I forever thankful for, because they are the ones who remind me to just breathe."
Shane is a three-time letterwinner who has appeared in 44 games for the Maize and Blue, compiling a .423 save percentage, 38 ground balls and an 11-11 record. Last year's team set new program bests for overall victories (7) and Big Ten wins (2) in its fifth season as a varsity squad.
Transition to College; MIRA SHANE, Lacrosse

Read More
In August, athletics counseling intern and mental health outreach coordinator Jevon Moore wrote about the best ways to tackle the transition from high school to college.
The New Gameplan: How to Transition from High School to College
About Athletes Connected
Formed in 2014 on an NCAA pilot grant by a collaboration of University of Michigan Depression Center, Athletics and School of Public Health, Athletes Connected actively works to provide student-athletes with the tools and resources possible to support student-athletes along the continuum of wellbeing. Athletes Connected does this by promoting awareness of mental health issues, reducing the stigma of help-seeking and promoting positive coping skills among student-athletes. To learn more about the program, view the entire catalog of videos, read original stories and access helpful resources for student-athletes and non-athletes alike.