By Dylan Steele, U-M Cheer
As a student-athlete at the University of Michigan I quickly learned that name, image, and likeness (NIL) is shaping the world of college athletics today. Several businesses are beginning to see the value in creating NIL sponsorship opportunities with student-athletes due to an NCAA rule change in June 2021. The initial ruling that consisted of four sentences was confusing not only to myself and other student-athletes, but to athletic departments, businesses, and fans as well. As a result, common misconceptions arose as to what NIL really was and the benefits and additional responsibilities student-athletes have in this new world of college athletics. So what even is NIL and how do student-athletes profit off their name, image, and likeness?
Several student-athletes, including me, were under the idea that simply being on a college athletic team would ensure NIL dollars coming to us without any work on our end, but that simply isn't the case. NIL is a branch of influencer marketing, which is not a completely new concept. This means the blueprint to success has already been implemented by social media influencers, it's just only recently been legalized by the NCAA. With this new opportunity, student-athletes, very much like social media influencers, may now monetize their NIL for commercial purposes. Some examples I've seen are autograph signings, social media posts, commercial partnerships, or other appearances. Additionally, we as student-athletes are responsible for paying taxes on cash compensation or the value of products received, which came as a surprise to most of us, adding another layer of stress as we had to learn the best way to report our income, without a lot of direction since all student athletes were learning about this at the same time.
Our Athletic Department has since created tax/financial education sessions to ensure us athletes are aware of the responsibilities involved in an NIL deal and to help keep us from any trouble with the IRS. A Local Exchange has been set up through INFLCR to help connect Wolverine athletes with businesses. In addition, we can report our deals to Michigan through an app which also helps keep track of our tax information. The University has also set up a contract review program through the Law School to review the legality of deals to alleviate the stress some of us feel when negotiating deals and to ensure none of us are getting stuck in a binding deal that could be harmful to our brand in the long run.
It is also helpful for us as student-athletes to understand the social media presence NIL empowers us to have. We need to have a firm understanding of our values in order to maintain our public image as we represent not only our school but our personal social media brand. We must conduct our own research to ensure the brands we partner with have the same values and align with the image we are trying to build for ourselves. What's important to me? Does this company/brand align with the image I'm creating for myself? We as athletes are role models to kids of all ages and have the pleasure and responsibility of being connected to our fans more than ever, which has a large impact on our communities and the next generation. Read more about navigating public criticism here.
It is important to note that getting a deal done is not as easy as people may think. Businesses focus on the social media engagement of student-athletes before offering deals. This results in a new found responsibility for us to increase our social media engagement through content creation which is a lot harder than most realize. Social media already has some issues such as comparing yourself to others, but now the pressure is truly on to constantly be able to produce content that will gain constant engagement. Honestly, it can become like a full-time job for some which adds another task to our already busy schedule. As the mental health crisis continues in our country, it is imperative that we give student athletes the resources they need or not only be successful in this space from a business standpoint, but to prioritize their mental health through it all. I can say first-hand when my day consists of early morning lifts, classes, study time, practices, and games, while trying to maintain proper performance, balanced nutrition, adequate sleep schedules, and taking care of myself to physically be able to compete at a high level for an entire athletic season, it can become hard to find time to work on meaningful independent brand building. The best piece of advice I can give is to become aware of and build skills around time management so you can accomplish what you want to, and have more time to yourself away from the stress of your sport, classes, or anything pertaining to the world of NIL.
As you can see, NIL is a complicated topic. Laws and NCAA regulations have slowly been adjusted to provide more clarity as NIL continues to evolve. NIL is a step in the right direction for college athletics and creates new responsibilities for all parties involved. College athletics have forever changed as a result of NIL, and it is important to keep the best interest of student-athletes at heart, and to be mindful of how it can impact their mental health. Athletic departments across the nation must continue to do their part in equipping student-athletes with the tools necessary for success not only in their sport, but in all aspects of the student athlete experience including NIL. You as an athlete also have an opportunity to keep your own best interests in mind by clarifying your own values and choosing partnerships and brands that promote those. You also have the chance to practice skills to benefit things like your time and stress management.
if you're looking for assistance navigating NIL, here are some resources available to Michigan student-athletes:
If you're experiencing difficulty with time management, are feeling overwhelmed, or want to explore your personal values, consider connecting with an Athletic Counselor.
---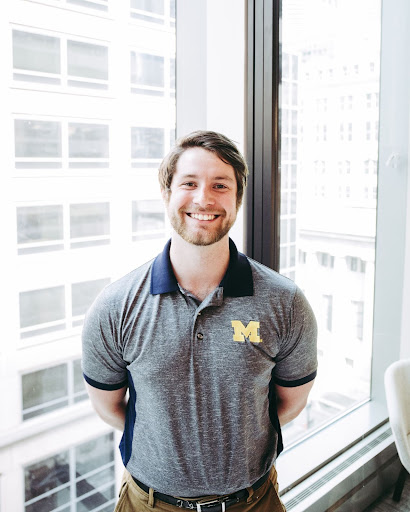 About the Author
Dylan Steele is a senior student athlete on the cheer team at the University of Michigan studying sport management with minors in entrepreneurship and real estate development. He serves as the NIL/NCAA Legislation Executive Board Chair. He is a 2 time NCA National Champion.