Athletes Connected was featured on USA Today College in a story that studies how few student-athletes seek help with their mental illness. U-M athletic counselor Emily Klueh was quoted to provide context on how different approaches are needed to work with student-athletes. Below is an excerpt from the story, which is the second piece in a two-part series.
---
By Haley Velasco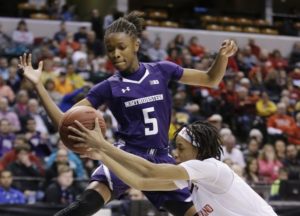 As a high school student in Rhode Island, Katie Morin swam the 500- and 1000-meter freestyle alongside elite athletes, including three-time Olympian Elizabeth Beisel. As she became more serious about swimming, she met with a sports psychologist, a general psychologist and a psychiatrist, and began taking anxiety medicine.
"It is pretty common in an individual sport where you compete against yourself, or the clock, to put immense amounts of pressure on yourself," Morin said.
During college recruitment, she evaluated mental health resources at prospective schools along with the caliber of academics and the strength of their swim programs. Upon choosing Cornell University, she immediately made an appointment with a counselor at the general health center, who helped her schedule sessions all four years.
"The ease and anonymity of the entire process made me want to [seek] services," Morin said.
"It's a benefit to have people who understand that population and who work with them in a different way,"
— Emily Klueh
Unlike Morin, most college athletes who have mental health do not seek help, according to Daniel Eisenberg, an associate professor at the University of Michigan School of Public Health, who surveyed student-athletes before and after they participated in educational presentations to all 31 athletic teams at the university. He says that 33% of all college students experience significant symptoms of depression, anxiety or other mental health conditions. Among that group, 30% seek help. But of college athletes with mental health conditions, only 10% do.
"They are student-athletes, and they come with the same baggage that other students have," says Christopher Miles, assistant professor of family and community medicine and biomedical engineering at Wake Forest University. "They just have a lot more stressors because of their expectations, their time commitments."
Margot Putukian, director of athletic medicine and assistant director of medical services at Princeton University, said non-athletes are "not under the microscope" in the same way.
"They might not have as many stressors," Putukian said. "They may not have performance issues and those stressors that athletes do."
Some student-athletes hide their mental health issues and don't appear to their loved ones to be at risk of suicide, like 19-year-old Jordan Hankins, a basketball player at Northwestern University, who hanged herself in her dorm room in January. Others, like Madison Holleran, display warning signs: On Jan. 17, 2014, Holleran, a University of Pennsylvania freshman and a member of the track and field team, jumped off the top of a parking garage to her death. After her death, friends and family said she had seemed to be struggling.
Overall, out of about 500,000 student-athletes who compete annually in NCAA sports, 477 died from suicide between 2003-2013, according to a University of Washington study analyzing athlete deaths.
Providing mental health services to student-athletes
Many student-athletes who find it difficult to ask for help or access services are more inclined to seek support in the comfortable setting of athletic training facilities, according to Emily B. Klueh, athletic counselor at the University of Michigan.
"It's a benefit to have people who understand that population and who work with them in a different way," said Klueh, who is program coordinator of Athletes Connected, a university program to bring awareness to and support student-athlete mental health.
---
Read the rest of the story on USA Today College.