By Julie Fielding, Assistant Director of the Michigan Athletics Career Center (MACC)
Looking for a new job or applying for graduate school? You have the skills graduate programs want in their students and employers want in their employees. Below are skills you developed as a student-athlete that will help you market yourself as an excellent candidate in whatever career you pursue after sport.

Teamwork: The Team, The Team, The Team. One of the clearest examples of a skill taught through sport is teamwork. Even after you transition away from competition, for the rest of your life, you will find yourself in situations and in settings that ask you to work with others. Through sport, you learned how and developed your ability to work closely with other people in order to achieve the best outcome. You may not have even liked all of your teammates, but you were able to respect each other and work together to reach your goals.
Leadership: Often when we think about leadership on a team, we think of a coach and the captains, who all play a crucial role in the success of a team. However, even if you were never a captain, your team would never have succeeded if you were not accountable for your own actions and commitment — and expected your teammates to put in the same effort. You have the ability to lead, whether or not you held a "typical" leadership position on a team.
Coachability: Every person and player has strengths and weaknesses. A highly coachable person is able to notice their own strengths and weaknesses, and is also able to receive feedback from a coach, teammate, colleague, or boss about their performance and incorporate what they were told into future plays and projects.
Goal Setting: Even if you didn't do it consciously, your athletic career was full of goal setting. It may have been big goals like winning the conference title or a championship, but there were likely many sub-goals in between. You may have set goals to beat your PR by a few seconds or pounds, all with the intention that you would become a better performer. The same skills can be used in the workplace or in your personal life. Completing a project by a certain date, reaching a quota, learning a new skill, or other smaller goals may be essential steps on your way to a promotion or other triumph.
Accountability: You were relied on for so much: academic performance, athletic achievement, and maintaining a positive image within a public setting. Setting goals is one thing, but sticking to them is another. You not only hold yourself accountable, you hold others around you accountable as well. This skill is essential to any high performing team, and one you would contribute within the workplace to maximize productivity
Resiliency: Stress, failure, and losses are part of more than just sport. You will have setbacks and you will get frustrated throughout your life, but sports have taught you that you can work through them and keep going.
Adaptability: In any sport, any play or event can go a number of different ways, so you always have to be prepared for multiple outcomes. Your ability to think through different scenarios and have a game plan for those is an incredibly useful skill. Even when things don't go the way you planned or anticipated, you are able to shift and adjust accordingly.
Work Ethic: You worked hard to be successful as an athlete. You put countless hours into training and practicing. You can take those traits of hard work, determination, and focus into your future careers, jobs, and/or volunteering.
Drive: You wouldn't have reached the level of athletics that you did if you weren't motivated. You likely would not have dedicated all that time and put so much effort into your training had you not possessed the drive. It can be difficult to figure out what motivates you if you no longer have a team and coaches pushing you toward a championship, but your love for competition will always be there. Sometimes turning work into a game or telling a friend about a project or goal  can help tap into that drive.
Time Management: Remember when you had morning lifting, afternoon practice, four classes, and homework…and that was just Wednesday? Your athletic career has prepared you well for balancing a packed schedule.
Prioritization: From balancing rigorous academic and athletic schedules, to planning team building activities and community service projects, you continue to enhance and utilize your skills to effectively balance competing priorities. You'll find your ability to be organized a skill that greatly helps you in your first job, your next job, or within a graduate school program.
Self-Discipline: You were accustomed to getting up early, making smart nutrition choices, and making sacrifices in pursuit of your goals. This type of self-discipline helps keep you on track and focused on not only individual discipline, but team unity.
Ability to Perform in High Pressure Situations: During your lifetime, you'll be exposed to certain situations that will test your preparation and mental focus. As a student-athlete, you were  able to keep a clear mind when faced with adversity, which can be advantageous when working to meet a tight deadline. You competed in front of thousands of spectators with an expectation to perform at the highest level. You presented to your classmates during a group project, and motivated your team during halftime; now you might find yourself delivering  strategic recommendations to a client or managing employees – being a student-athlete prepared you to excel in moments like these.
Effective Communication:  Being able to communicate is at the crux of any successful relationship, whether that is with a friend, a partner, or a boss. You may have seen this played out in the past when you had to communicate your needs to your trainer or coach, or when you and your teammates needed to get on the same page to win the game. You know from experience that effective communication improves productivity and performance.
Conflict Resolution: Being a part of a team, you were surrounded by people with different personalities, perspectives, and opinions. As you can imagine, this can create disagreements among teammates and coaches. The ability to handle an uncomfortable situation or approach a difficult conversation helps to improve cohesiveness within a team, and as a student-athlete, you've enhanced this trait through many years of collaborating with differing personalities to achieve a common goal.
For more career tips, visit Michigan Athletics Career Center. For resume tips, visit the National Association of Colleges and Employers which highlights the top attributes employers want to see on students' resumes.
About the Author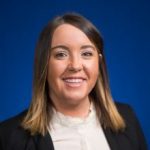 In her role as Assistant Director of the Michigan Athletics Career Center (MACC), Julie Fielding provides individual and group career coaching sessions and workshops to assist student-athletes in developing competencies needed to make informed decisions regarding life after sports. With over nine years of experience in higher education and career services, Julie is passionate about working with students-athletes on exploring various career paths through experiential learning opportunities and marketing their unique skill set to employers and recruiters.