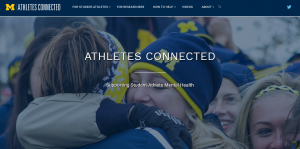 By Jeremy Fallis, Depression Center Multimedia Services Communicator
It is our pleasure to unveil the new AthletesConnected.umich.edu. Over the past few months, we have been revamping, retooling and renewing all the best parts of this website in order to fit our key audiences: student-athletes, coaches, researchers, and family and friends who support student-athletes.
We have used feedback from these audiences, including our ever-helpful Campus Advisory Board, to rebuild a friendlier-to-use site that provides resources for coping and help as well as a more visual representation of our work and the work of others.
When a new user lands on the home page, which is fully responsive, he or she will be greeted by our hero image, welcoming all visitors to Athletes Connected. A top navigation bar features drop down links to helpful areas of the website, which we'll go into further detail below. Beyond the hero image we feature four core areas of the website as well as buttons for stories and support. When the user scrolls further, tiles of past stories and articles related to athletic mental wellness and our specific work in the program come alive with visual hovering effects and preview images. And lastly, our footer reaffirms our three University of Michigan collaborators on this project: The Depression Center, School of Public Health and Athletics.
A quick tour of the site allows a particular user to head into one of several areas that addresses student-athlete mental wellness. One section, specifically for student-athletes, is broken down into areas of how to get support, mental health & performance and skills & strategies. This will allow student-athletes to seek various resources, whether they're on-campus, interpersonal help, or online tutorials and videos on coping skills.
Another section is made for researchers, where we share how our pilot program was accepted in 2014 and where we intend to go. Additionally, we'll be sharing more impactful research from our co-collaborators in the School of Public Health and the Healthy Minds Network.
Our third main section is how to help. This area is intended for associated staff members, friends, family and others related to student-athletes. Helpful guidance is provided to these groups of supporters and we look forward to expanding this corner of the site to more specifically address the needs of each group.
Two other important areas that we're proud to host, and are intended for anyone coming to the site, is our video library and our about section. Some of the most impactful pieces we produce are in video format, which includes everything from our trailer that teases our program, to the individual stories of student-athletes who battled their mental illness and used the support from the University of Michigan to succeed. Additionally, multiple films on coping skills round out our current lineup and we're excited to reveal our newest videos later in 2017 touching on new subjects.
In our about section, you're able to learn about our talented and dedicated team that works behind the scenes to make this program hum. Moreover, helpful articles and stories related to mental health and athletes' struggles and successes are posted to our page. We look to share excerpts of important stories relevant to our project as well as news coverage of the program. Moving forward, we are excited to provide original thought leadership pieces as well as written content touching on various guidance, wellness and other subjects related to Athletes Connected.
We hope you find our new site easy to navigate, helpful to use and informative overall. If you have any feedback or questions, feel free to contact us. If you're interested in furthering our mission to aid student-athlete mental health, consider a donation.
Thanks again!
The Athletes Connected Team